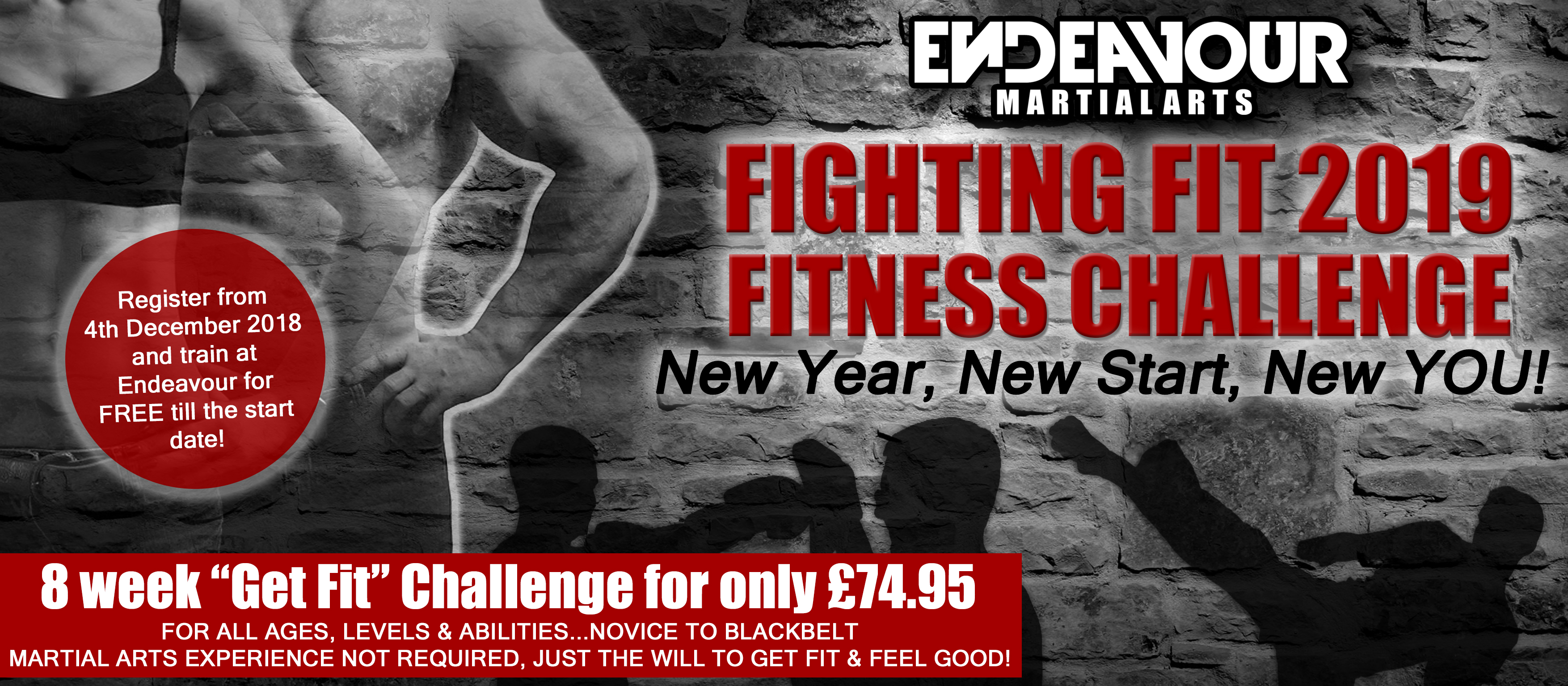 Want to become a fitter, healthier, more confident version of yourself in 2019??
18th January - 15th March 2019
If 'yes' then our Fighting Fit Challenge 2019 is for you!!
This year's challenge is perfect for anyone aged 14+ who wants to reach personal goals, supplement their martial arts training, push themselves or just burn off some of those Christmas calories!!
Its an 8 week challenge which includes;
Fitness boosting martial arts classes, kickboxing partner drills, a fitness journal, home workouts, bi-weekly weigh-ins, recipe ideas, private Facebook group, nutritional advice, team t-shirt, kickboxing hand wraps & 20% off further endeavour training kit.
REGISTER FROM 4TH DECEMBER 2018 AND YOU CAN TRAIN FOR FREE UP UNTIL THE CHALLENGE STARTS ON 18TH JANUARY!
For more information or to register for the challenge just complete the form
p.s .... Martial Arts experience is not required ... just the will to improve, achieve & succeed!
Success Stories
Thoughts from previous participants in our Fighting Fit Challenges....
" I started Fighting Fit in January 2017.  I took the challenge up after seeing it advertised when my daughter was doing Martial Arts.
My aim was to get a bit fitter but didn't like the idea of going to a gym.
Fighting Fit was a real personal challenge as I had not taken part in exercise for a while!
From day 1 the instructors were really helpful and supportive.  Fellow students were friendly and made me welcome, guiding and encouraging me through lessons.  My fitness gradually improved and classes seemed to get easier as the weeks passed and I actually started looking forward to going.  An added bonus was losing a bit of weight in the process.
I found the weekly recipes and extra support/advice and tips on the private facebook group a great way of keeping focused, also the weekly home exercise plans kept you motivated
It started as a 8 week challenge which flew by and here I am 2 years later still at Endeavour - when the course finished, I ended up enrolling and am on a black belt journey! "
Chris Holliday - Challenge Finisher 2017
"I started the Endeavour Fitness Challenge back in January 2018 to primarily get a little fitter and loose some Christmas 'belly'.
I've always kept myself active and reasonably fit with running and some light gym work but one thing I have never done is dieted. I like to eat and drink what I want!
Since I started the fitness challenge, I didn't and still do not diet but I certainly was and still am working harder on my physical fitness. I saw my belly fat decrease, my body composition change and I did lose a little bit of weight but I definitely replaced body fat with muscle.
When the fitness challenge ended, I felt amazing. Stronger and fitter than I have been in a long time. In  my opinion, the HIT high intensity training is ideal, as a session lasts 45 minutes with about 20 minutes of strength and conditioning. I have a hectic diary with work commitments however the session timings are just right
I would have to run 10 kilometres to gather a sweat the same as the Endeavour  fitness challenge. I enjoyed the challenge so much I signed up to continue learning mixed martial arts and will continue learning, grading and getting fitter until I reach my black belt goal. From there who knows, probably just maintain my skills and fitness but the guys at Endeavour are brilliant. They push you when you need to be pushed and show you what you need to know. A great environment to work out and learn many self-defence skills "
Gary Flatley - Challenge Finisher 2018